Fine Art Oils from Julie Kluh Art Studio
"Julie's oil paintings capture the movement and light of our oceans with an awe-inspiring power. Her intention is to reflect the aliveness, harmony and vibrance of our inner nature.
In her own unique style she reminds us of the peaceful infinite energy in the ocean and in us"
Collectors Words
My wife and I started following Julie on Instagram late last year. After only a short while of following her, she posted a piece that we instantly fell in love with, "January."

We contacted Julie before the paint had dried (literally), and purchased the original piece earlier this year as our gift to each other for our anniversary. "January" hangs in our living room, illuminated by natural light from the adjacent windows. As the day progresses, the colors change and the entire personality of the painting shifts. We enjoy the piece every day and since it is visible from almost every common area of our home, we are always able to catch glimpses of it in different light and from different angles.

We love the art and the detail in it. Julie has an incredible talent, and we love that we are able to have her artwork in our home. 

John & Shayna Keegan
The central wall in my living room needed something special but I didn't know what I was looking for until I came across Julie's paintings.

I grew up living on the Puget Sound, and the water painting she created makes me feel like I have a window looking out onto the bay. She was lovely to work with, and when given free rein to follow her inspiration (I wasn't sure what I wanted) she absolutely delivered.

I couldn't believe how quickly the painting was actually hanging on my wall!  Visitors often comment on its uniqueness and beauty, and I will treasure "Transcendence" forever. Thank you, Julie Kluh!

Stephanie Layton
After seeing Julie Kluh's artwork and her amazing ability to capture water, I commissioned her to paint a picture from a favorite photo of my grandson running on the beach in Australia.

There is a lot of water in the setting and I knew Julie would be the one to capture it. In meeting to discuss the project I found Julie easy to work with, easy to communicate with and very accommodating to my input. She seemed to truly
care about the subject and this project, and it showed in the outcome.


The piece is amazing and the coloration is perfect! She really captured the whole essence of that day on the beach.


Julie also went above and beyond and helped me in getting an additional print made from the original. And it was all done in a very timely manner. We are thrilled!
Thank you Julie. You are a very talented artist and a delight to work with.

Susie Senner
We have purchased 3 amazing pieces of Julie Kluh's fabulous original paintings. 

The beauty of our home increased tremendously with her artwork. We have not seen any artist capture the water as Julie has. 

We were beyond thrilled to meet her in person as she delivered these pieces for us to choose one. 

We could not pick one but had to take 3 of her outstanding pieces.  Thank you Julie!! We could no be more pleased with our new art!! 

Julie Denton
"Connection" is what I immediately felt when I saw your beautiful painting.  The ocean always brings me feelings of strength, resilience, love and vulnerability. This painting is all of that!

You describe this piece of art as "an invitation to take deep breaths", and for me, it does that every time I look at it.  There is a constant flow of creative and positive energy in my home and I have you to thank for that.  I've received so many compliments and comments about how it feels like you're actually in the water. 

I'm thrilled to have found you, your talents and customer service are beyond extraordinary!  I hope to add more of your work to my collection in the future! Thank YOU! 

Jennifer Holland
Julie's art adorns my beach house home in Australia. Her beautiful style perfectly captures the seas tranquility and beauty adding to the ambience of my seaside vistas.  

Thank you Julie

Craig Harwood
The prints of 4 of your pieces of art arrived today. I can't tell you how much joy they have brought me. They are stunning. I had to stop in the middle of framing them to tell you this.

I love the colour blue, I love the different shades that you see in the sea and sky and I love exotic travel - I love the colours of the Indian Ocean the Pacific Ocean, the Mediterranean. I dream of destinations like Tahiti. You have captured all that in your art.

But the best part is not just that they have brought me joy today but that I know they will bring me joy everyday when I look at them. As soon as they are up on the walls I will take photos and send to you!

Rima Husseini
We purchased Clarity, a wave painting, from Julie last summer. We chose Clarity for the colors and subject matter which are perfect for our home on Puget Sound. Julie captured the feelings we wanted to evoke: calm, casual, relaxing. It is easy to imagine the sound of waves rolling in. Julie went the extra mile and installed it in a custom frame. We are more than happy with our purchase!

Dan & Missy Phillips
I wanted to let you know that we have now collected your 2 beautiful prints from the framers here in Portugal, and they are up in our lounge! We are absolutely delighted with them! 

We really love your work and and the colours have made our lounge feel and look beautiful. We are really starting to create the beach vibe that we wanted in our home! 

Thank you for all your help and advice, before and after our purchase. Your service and after care is excellent and I will certainly be recommending you to my friends and clients. We hope to purchase more pieces from you very soon, as I think I'm suddenly addicted to your artwork! 

Carrie Price
Custom Art Review
"You got it exactly right. I love it!!!! I so wanted light catching the top of the waves and I got so much of it. It's my favorite feature of the work you do. I am in awe and can't believe I finally get to own a piece of your work.
I have had the space above my couch empty and waiting since November 2019!! This is so special for me. I can't thank you enough."
– Heather Gray
Hire Julie to paint a custom painting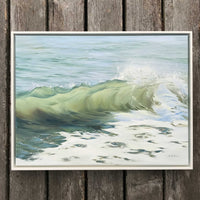 The Perfect Gift!
"After seeing Julie's work on Instagram, I absolutely fell in love with her ability to capture the true beauty and essence of our oceans. Her work is more than breathtaking and left me not only feeling at peace but at home. I have been fortunate enough to grow up on the water for most of my life and have yet to discover an artist as talented as Julie.
I knew that her art was what I needed as I was moving across the country to a new home. I needed my piece of the Long Island coastline and Julie gave me that. My boyfriend completely surprised me with our beautiful painting, Opportunity. Thank you, Julie, for not only giving us a piece of our old home and comfort to take with us on our new journey but for making our new home feel like ours."

- Courtney Mayer
Follow @juliekluh on Instagram
Shipping & Returns
Shipping: I ship worldwide! For shipping outside the USA contact me here. Depending on your order, shipment times will vary.
Returns: I guarantee you will love your art or you can replace, exchange, or return for a full refund. See the Return Policy here

Copyright Notice: All artwork on this website, and all artwork created by Julie Kluh is owned exclusively by Julie Kluh and is not permitted to be reproduced in any way unless with written consent.