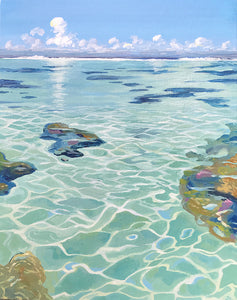 Original artwork, painted in my sailboat studio in Tahiti 
8" x 10"
Acrylic on Canvas Board
Professionally framed white linen inset in silver frame
Tahiti, French Polynesia 
_
I had been dreaming of painting this magnificent scene for years and was constantly wondering how to capture the light and effect of the water and the bottom together. The only way to know is to do, so I did. This was my first attempt at painting water like this and as things go, several paintings after I could not quite replicate the magic that bounced from the canvas in this one.
I love this painting, it means so much to me. I will forever be in awe of the way the light moves and sparkles on the bottom, and the endless ways it can be captured on canvas to enjoy away from these fascinating, brilliant lagoons! 
_
Customize it: Request a size or add a frame, contact me here
Canvas Prints: Canvas prints are often mistaken for an actual painting they are so beautiful and realistic! The image is wrapped around the edges for a finished gallery look.
Paper Prints: Archival prints are Giclee, printed on premium paper using fade-proof non-toxic inks.
Shipping: International shipping is available only for original art. Prints are made to order so shipping times vary. Please allow 2 weeks for arrival, or more for larger canvas prints.
Returns/Money Back Guarantee: I guarantee you will love your art or you can replace, exchange, or return for an easy full refund.
_
Copyrights of all artwork on this website are owned by Julie Kluh and are not transferred by sale or otherwise for reproduction in any way.